3DDiscovery Evolution,生物3D打印机-3D Discovery Evolution
型号:3DDiscovery Evolution
价格:请致电:010-67529703
品牌:regenhu
瑞士regenhu 3DDiscovery Evolution生物3D打印机
3DDISCOVERY™  EVOLUTION
Tissue engineering and biotechnology sciences are complex areas where multiple components including material types, composition, cell viability and bio-architectures are all crucial.
Bioprinting is a rapidly evolving field; the FLEXIBILITY and MODULARITY of your bioprinting instrument are key factors in your future accomplishments.
The 3DDiscovery™  Evolution has these unique features which will allow you to follow the constant changes and rapid evolution in bioprinting science and specifically in bio stimulation
.
设计复杂的生物架构来模拟天然的宏观及纳米结构
进一步推动人工器官的发展
组织工程学和生物技术科学均为复杂领域,其包含的多重组分如材料类型,组成,细胞活性和生物构架等都至关重要。
生物打印是一个快速发展的领域;您的生物打印仪器的灵活性和模块性是决定您未来成就的关键因素。
3DDiscovery 所具有的特性,使您能紧跟生物打印科学的不断变化和快速发展,尤其是在生物刺激方面。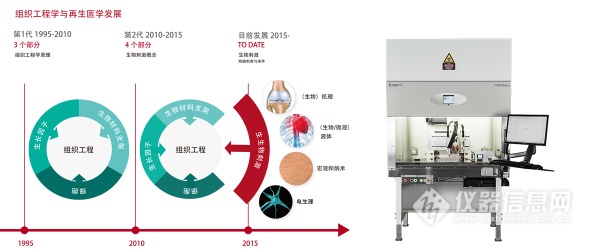 3DDISCOVERY EVOLUTION
1 模块化
一台仪器具备11个不同的打印头:可处理大量生物材料,多重聚合方法和技术附件帮助我们调整和优化仪器来适应您的应用需要。
2 灵活性
您的需求不断变化:仪器的配置和规格可随时调整和优化,使生物打印硬件适应您特定的科学进程。
3 客户定制
我们可为您的精确应用提供的方法:具备大量生物刺激特性用于您的生物打印过程。
模块化&灵活性
打印技术
一台仪器具备11种不同的打印技术用以处理大量挑战性应用
组织工程学
生物刺激处理部分
软件
独特的用户友好型生物打印软件套装用于满足您的特定需求。
BioCAD BioCAM BioCUT
生物控制环境
生理和无菌条件下处理。二级生物安全环境。
技术集合
单个处理过程汇集静电纺丝和生物打印制造技术,完成宏观和纳米级生物架构。
过程控制
由高精度传感器实现过程可靠性。
客户定制
机械刺激
基质密度/宏观和纳米级结构基质机理
可控的ECM压缩
应激刺激(振幅和调频)
电刺激
电磁刺激(电压和调频)
低温等离子表面处理
力学刺激
微流体
灌注
超声刺激
光学刺激
光活化
可控照明(可调)
应用案例
DENOVOSKIN ™ 是一种具有真皮-表皮结构的患者特异性自体皮肤移植,是可用于在永久性皮肤损伤治疗时的一种新型标准治疗法。该生物工程化皮肤移植是先进的组织工程学和生物制造技术的产物,由Cutiss 公司引入临床应用。
REGENHU专有技术


BioFactory ™

3DDiscovery ™

3DDiscovery™ BioSafety

3DDiscovery™ Evolution





FEATURES:

High-end solution for Industrial applications.

The 3DDiscovery™Bench Top is a high performance bioprinter with a unique modularity and flexibility for research and development

The 3DDiscovery™ BioSafety is the extended version of The 3DDiscovery™ Bench Top with class II biosafety cabinet. Designed for demanding biotech applications

The 3DDiscovery™ Evolution

is the most advanced biofabrication solution that converges 3D-Bioprinting, electrospinning and bio stimulation functions in one single process unit. It offers a unique opportunity to understand which stimuli need to be used in what conditions to enable tissue & organ fabrication.





PRINTHEADS:

Up to 8 printheads

Up to 9 printhead technologies

Up to 9 printhead technologies

Up to 11 printhead technologies





Printhead technology convergence

Printhead technology convergence

Printhead technology convergence

Printhead technology convergence





Customization to user process

Melt Electrospinning & Bioprinting technology convergence

Melt Electrospinning & Bioprinting technology convergence

Melt Electrospinning & Bioprinting technology convergence





-

-

-

Biostimulation
- Matrix Density /Macro & Nano structural matrix
- Stress stimulation
- Electromagnetic stimulation
- Optical stimulation
- Hydrodynamic stimulation

Direct Dispensing


●

●

●

●

Cell Friendly

●

●

●

●

Co-Axial printing

●

●

●

●

Two component printing

●

●

●

●

Thermopolymer Extrusion (Screw driven)

●

●

●

●

Thermopolymer Extrusion (Direct Dispensing

●

●

●

●

Melt Electrospinning
(MESW)

-

●

●

●

High precision plunger dispenser

-

●

●

●

Fused deposition modeling printhead

-

●

●

●





PHOTO CURING:














UV 365nm

●

●

●

●

UV 520nm

●

●

●

●

Variable Spectrum
(360- 580)

●

●

●

●

Laser Direct Polymerization

●

-

-

●





HEATING:














Cartridge Heater

●

●

●

●

Platform Heating

●

●

●

●





COOLING:














Cartridge Cooling

●

●

●

●

Platform Cooling

●

●

●

●





IN-PROCESS CONTROL:














Needle length


measurement

(Laser)

(Laser)

(Laser)

(Laser)

Substrate Height
Measurement

-

●

●

●

XView (QC/PatternC)

-

(on request)

(on request)

(on request)

Tailor Cone Visualizer

-

●

●

●

Real-time process


visualization

-

●

●

●





SOFTWARE:














BioCAD●

●

●

●

●

BioCAM●

-

●

●

●

BioCUT●

●

●

●

●

In-Control Interface

-

●

●

●

G-Code Interface

●

●

●

●





ENVIRONMENTAL
CONTROL:














BioSafety

(class II)

-

(class II)

(class II)

Sterility

●

-

●

●

Chemical Safety

-

-

(class X)

(class X)





BUILD VOLUME (MM):

60 × 55 × 55

130 × 90 × 10

130 × 90 × 10





PRINTING RESOLUTION:

+-5μm

+-5μm

+-5μm





EXTERNAL DIMENSION [WDH]:

1370/1240/2400

600 / 700 / 670mm

1370/1240/2400mm