AIM BIOTECH 3D细胞培养芯片(AIM Biotech Microfluidic 3D Cell Culture Chips)
型号:3D Cell Culture Chips
价格:请致电:010-67529703
品牌:aim biotech/flexcell
AIM BIOTECH 3D细胞培养芯片概述
AIM的3D细胞培养芯片透气性好,而且用户可以通过选择不同的水凝胶,在间隔的3D和2D空间进行不同类型细胞的培养。同时可以通过对化学物浓度梯度和流体的调控很好地模拟符合用户特定需求的微环境。
1.多样化的聚合性凝胶填充
2.高效的气体交换
3.可控的流体及化学物浓度梯度
4.独特的共培养模型
· 特性:
1. 显微镜玻片尺寸 (75mm X 25mm)
2. 无菌 & 现成
3. 模块化设计,可利用AIM Luer Connectors开拓更多应用领域
4. 适用于386-孔板(AIM专有)
5. 底层所覆盖的是透光率高达92%的聚合物,因此该芯片可适用于相衬显微镜、荧光显微镜、2-photon & 共聚焦显微镜观察
6. 利用特殊的凹槽设计让培养基可以被快速地更换,即使使用真空抽吸器也不会有过度抽吸的风险
3-channel design : 3D gel region flanked by 2 media channels

Microscope slide format 75 mm X 25 mm.
Compatible with all polymerisable gels including collagen, fibrinogen, Matrigel, etc. and combinations thereof.
Gas permeable laminate for effective gas exchange.
Optically clear and compatible with phase contrast, fluorescence and confocal microscopy.
Enables monotypic or organotypic co-culture models.
Enables the control of interstitial flow across the 3D gel region.
Enables the control of chemical gradients across the 3D gel region.
Sterile and ready-to-use.
Designed for rapid media exchange through vacuum aspiration with no risk of over-aspiration.
Designed for modular expansion with AIM Connectors.
Fits into AIM Microtiter Plate Holders for easy handling and stacking.
Applications of AIM Biotech 3D Cell Culture Chips
Cell migration of both adherent and non-adherent cells and cell invasion
Angiogenesis and vasculogenesis
Metastatic cancer assays (spheroid dispersion and extravasation)
Key features of AIM microfluidic chips
Long working regions that are easily injectable with hydrogel, with low risk of leakage.
Gas permeable bottom laminate ensures accurate reflections of incubator conditions (normoxic or hypoxic).
Multicellular co-culture, with meaningful organization into models of biological systems.
Control over chemical gradients and flow across the gel region and/or within the media channels.
Novel posts enable easy gel filling & long working regions
| | |
| --- | --- |
| | AIM 3D Cell Culture Chips utilize a patented approach with a novel post design in conjunction with optimized post spacing & channel height. This allows hydrogels to be contained within gel channels during the hydrogel filling process, with little risk of leaking into adjacent channels. The DAX-1 chip, for instance, has a 14mm long gel region. The air-liquid interface is substantially flat & uniform, with minimal occurrence of concave (under-filled) or convex (over-filled) interfaces. As the hydrogel is caged within the gel channel, the meniscus that usually obstructs phase contrast imaging is also absent. In short, AIM chips make it easy for users to cast hydrogels for 3D cell culture, and provide excellent optical clarity for various imaging techniques. |
Gas permeable laminate
| | |
| --- | --- |
| | AIM 3D Cell Culture Chips are fabricated with gas permeable laminates to ensure that oxygen tension in each chip correctly reflects incubator conditions. Users have the flexibility of setting up normoxic or hypoxic culture conditions. |
Multicellular culture made possible, with meaningful organization into models of biological systems
| | |
| --- | --- |
| | The multi-channel design of AIM 3D Cell Culture Chips enables the co-culture of different cell types in distinct compartments in the device, yet allowing paracrine signalling between cell types to take place. The movement of cells between different channels (or within an individual channel) can be easily observed & tracked. The growth and/or migration of cells within gel can often cause gel shrinkage or degradation. This problem is mitigated by the use of posts in AIM chips. The posts help to stabilize the gel and increase cell culture duration before the matrix collapses. |
Control over chemical gradients & interstitial flow


A chemical concentration gradient can easily be created across the porous 3D hydrogel by using a higher concentration of the chemical in a channel and allowing diffusion to take place. This feature is very useful for studies where directional cues of effectors are critical, including angiogenesis, cell migration and neurite guidance.


The interstitial flow across the 3D hydrogel can be controlled by setting up a pressure gradient between the flanking channels. This can be achieved by having a larger media volume in one media channel than the other, or by setting shear flow regimes that establish a pressure differential. AIM chips enable users to control shear flow in media channels with/without creating a pressure gradient across the gel channel. Shear flows are typically set by connecting the chip to a standard syringe pump through accessory connectors.
Selected AIM Biotech Publications
Vickerman V, Blundo J, Chung S and Kamm RD. Design, fabrication and implementation of a novel multi-parameter control microfluidic platform for three-dimensional cell culture and real-time imaging Lab Chip, 2008, 8, 1468–1477, DOI: 10.1039/b802395f.
Farahat W, Wood L, Zervantonakis I, Schor A, Ong S, Neal D, Kamm RD, and Asada H. Ensemble Analysis of Angiogenic Growth in Three-Dimensional Microfluidic Cell Cultures PLoS ONE 7(5): e37333. doi:10.1371/journal.pone.0037333, May 2012.
Shin Y, Han S, Jeon JS, Yamamoto K, Zervantonakis IK, Sudo R, Kamm RD and Chung S. Microfluidic assay for simultaneous culture of multiple cell types on surfaces or within hydrogels. Nature Prot, 7(7):1247-1259, 2012, PMID: 22678430,
AIM Biotech 3D Cell Culture Chip

AIM Biotech Chip Holder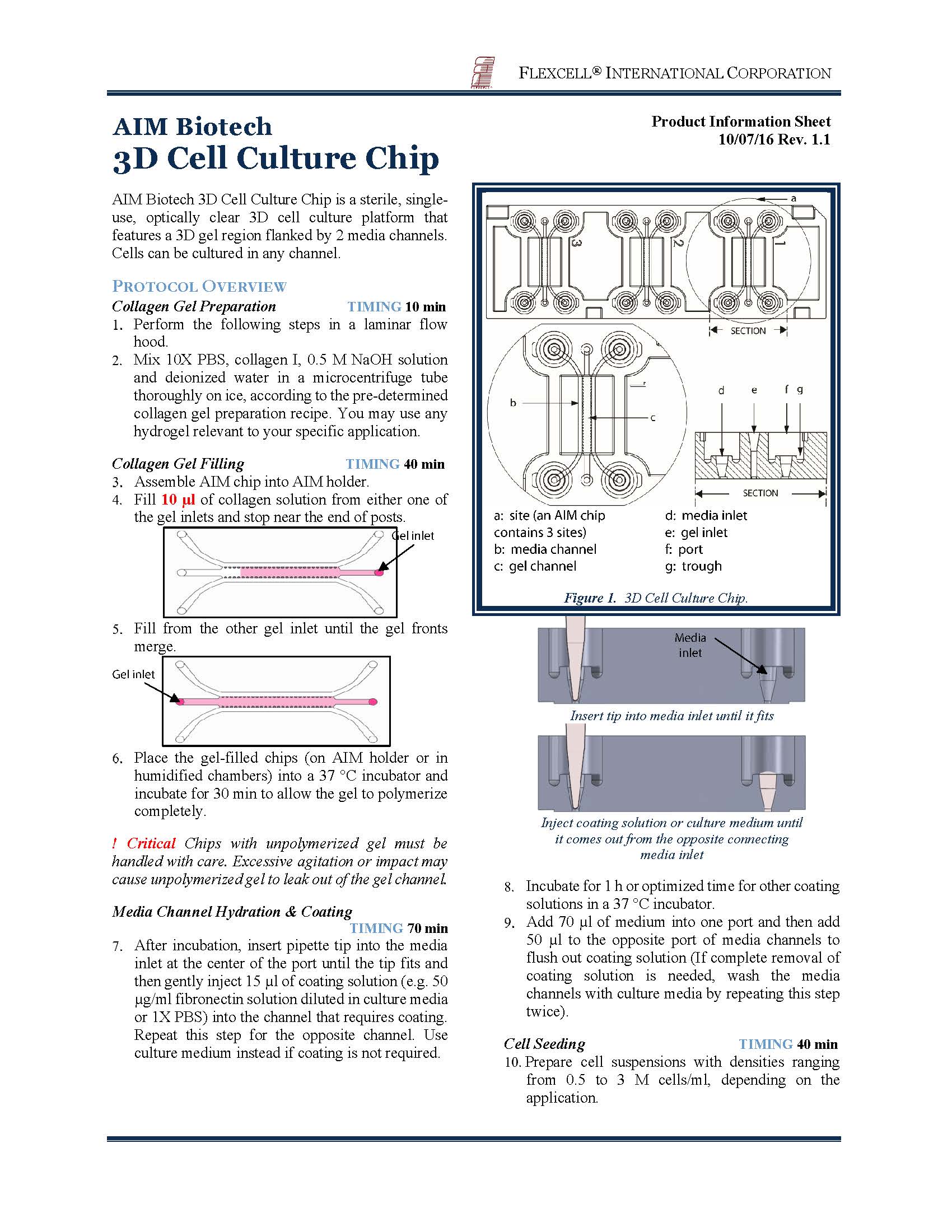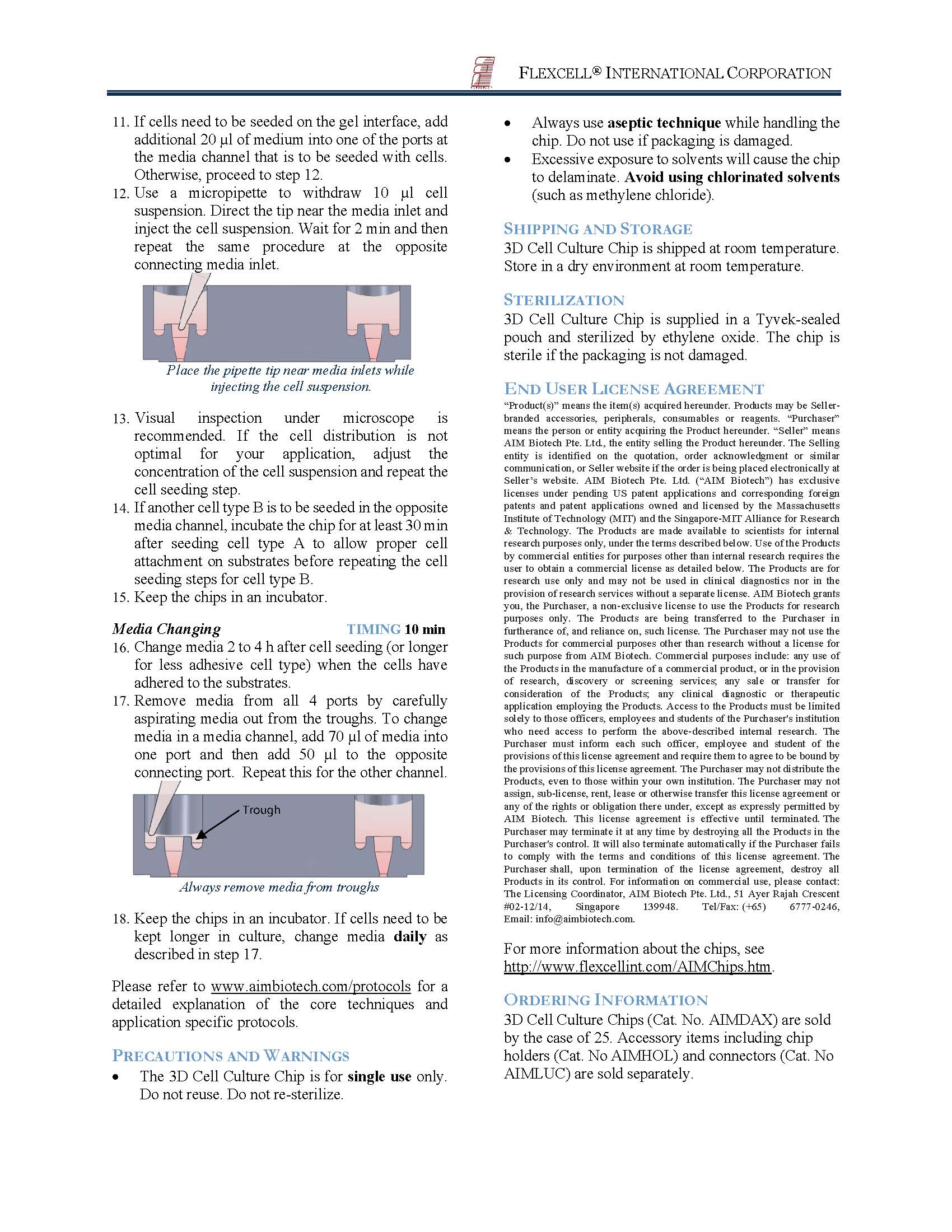 AIM Biotech Chip Holder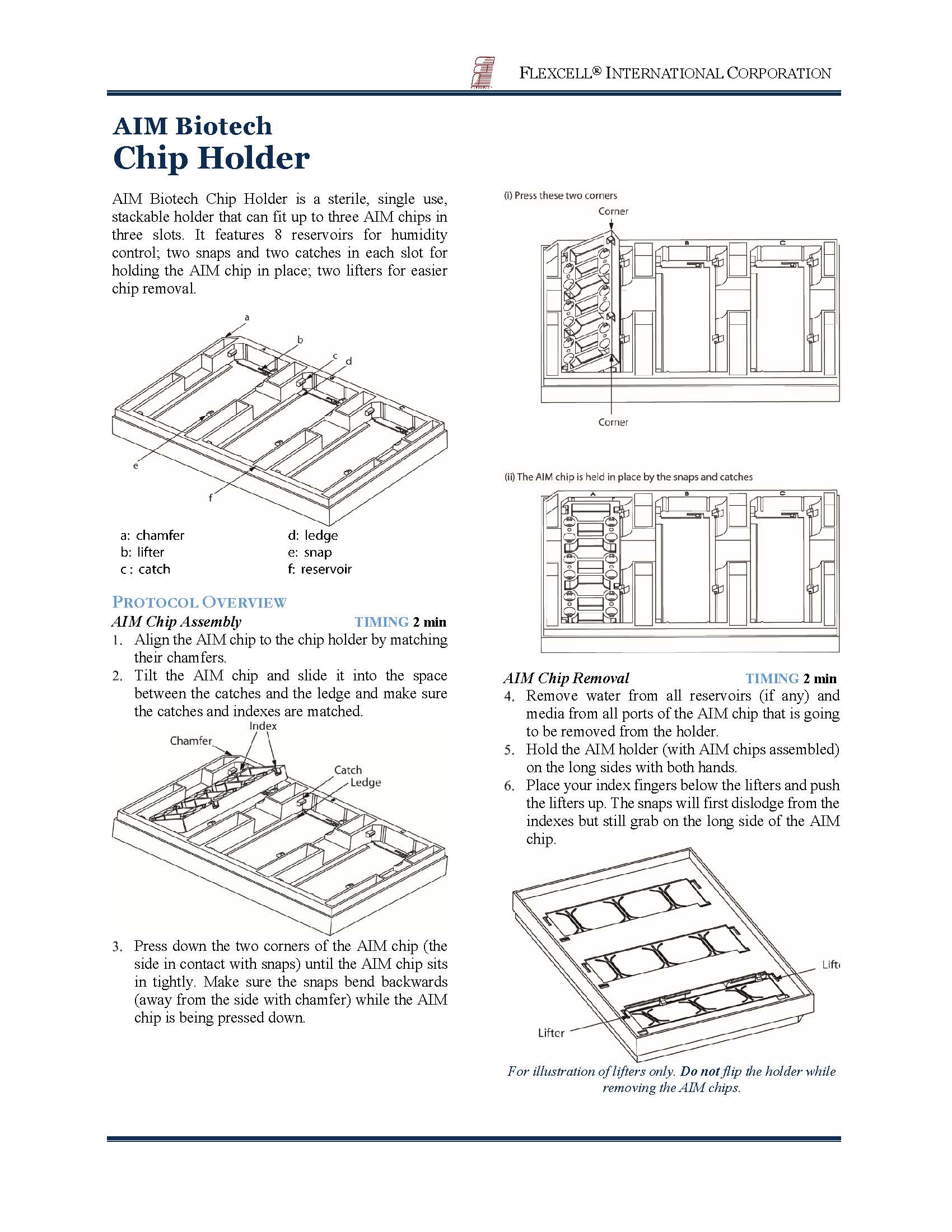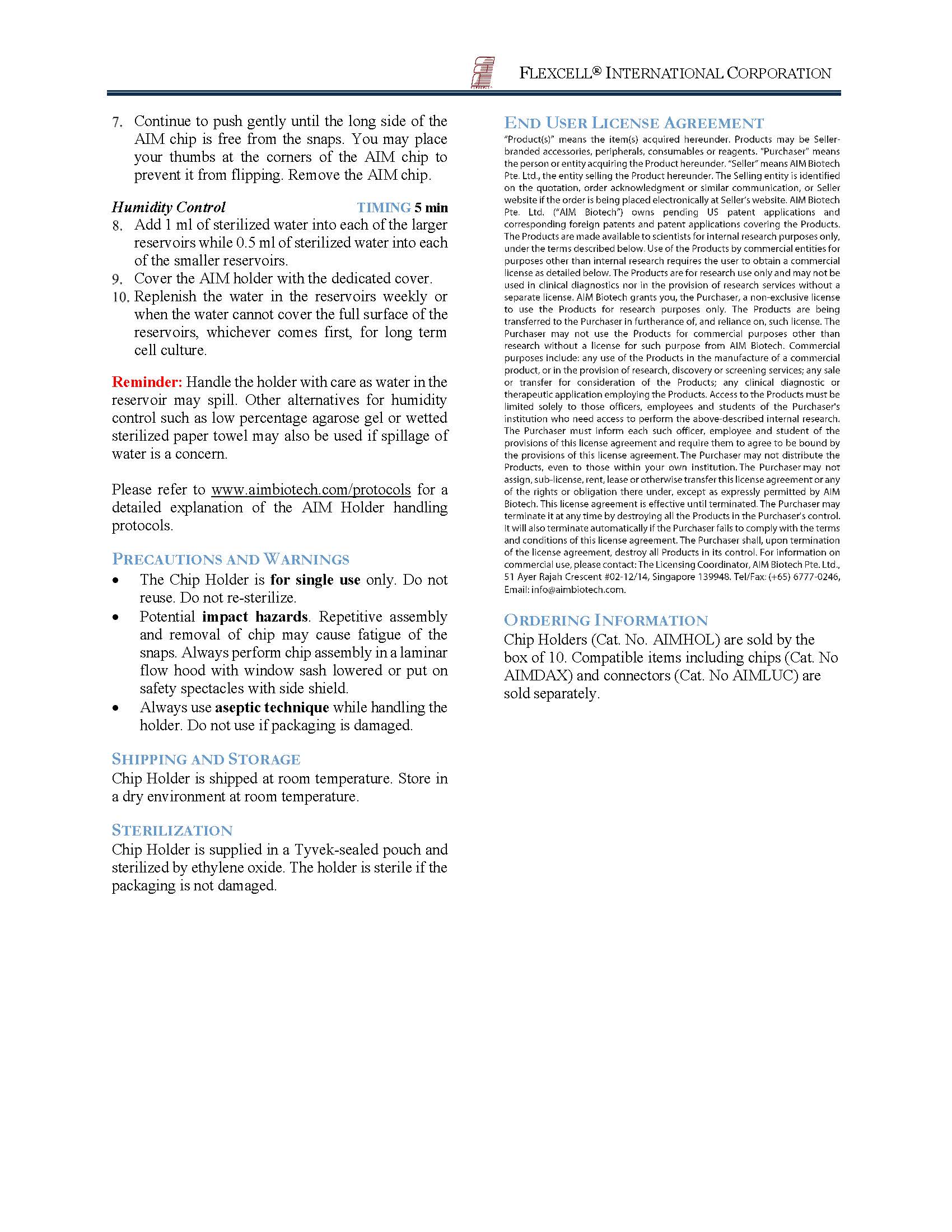 Technology
Key features of AIM microfluidic chips
Selected Publications
应用文献:
Key Publications
1. Vascular Functions
1.1. Angiogenesis
1.2. Anti-Angiogenesis
1.3. Vasculogenesis
1.4. Flow Response
1.5. Transendothelial Migration
1.6. Migration
1.7. Permeability
2. Cancer Biology
2.1. Spheroid Dispersion
2.2. Extravasation
2.3. Intravasation
2.4. Flow Response
2.5. Invasion and Migration
2.6. Testing New Therapeutic Approaches
3. Immunotherapy
4. Neurobiology
5. Stem Cell Biology
5.1. Differentiation of Embryonic Stem Cells
5.2. Electrical and Mechanical Stimulation of Mesenchymal Stem Cells
6. Mechanobiology
6.1. Mechanical stimulation of Cardiac Fibroblasts
6.2. Optically Excitable Motor Units
7. Other Models
7.1. Environmental Assessment
8. Reviews