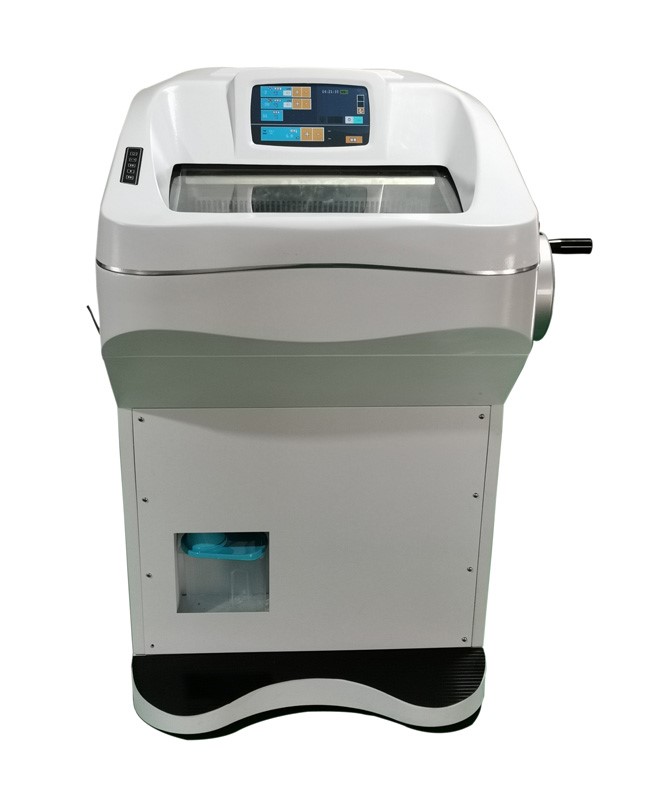 Section thickness range: 0.5-100μm Adjustable ,
0.5-5μm , Increment:0.5μm;
5-20μm, Increment:1μm;
20-40μm, Increment:2μm; 40-100μm, Increment:5μm
Trimming thickness range: 10-600μm Adjustable,
10-50μm , Increment:5μm;
5-100μm , Increment:10μm;
100-600μm , Increment:50μm;
Specimen retraction: 0-100μm Adjustable ,Increment:5μm
Maximum specimen size: 55mm×80mm
Horizontal stroke: 22mm
Vertical stroke: 65mm
2.Chamber temperature: -50℃~10℃ Adjustable
Specimen head temperature: -50℃~10℃ Adjustable
3.Freezing shelf :Minimum Freezing shelf temperature: -60℃
Number of freezing station: 36
4.Peltier :Minimum Peltier shelf temperature: -60℃
Peltier number: 8
Working time to reach -60℃: 15min Size:700mm*760mm*1160mm 175kgs
Established in 2007, Jinhua Huiyou Equipment And Instrument is a manufacturer and trader specialized in the research, development and production of Medical Devices.

We are located in Jinhua, Zhejiang, with convenient transportation access. All of our products comply with international quality standards and are greatly appreciated in a variety of different markets throughout the world.